Founded by owner Jonathan Koscielski in 2009, Eleet Appliance Repair is ready to help keep your home or business running smoothly by providing you with quality appliance repairs. With nearly a decade of experience providing local customers with a cost-effective alternative to buying pricey new appliances, our appliance repair service can help make certain you get both great value and the hands-on expertise you deserve. We're equipped to handle a full range of appliance services: from washer/dryer repair to refrigerator repair to dishwasher repair, we're here to serve you. Call now or send us an e-mail to get started!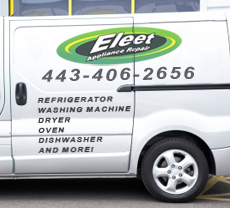 And unlike many appliance repair companies, we're available to work on practically every appliance make and model. Your full-service appliance repairman in Baltimore, we fix all of the following brands and more:
Admiral
Amana
Crosley
Electrolux
Estate
Frigidaire
GE
Hotpoint
Jenn-Air
Kenmore
KitchenAid
Magic Chef
Maytag
Roper
Sears
Tappan
Wards
Whirlpool
For additional information about how we can help with your dishwasher or refrigerator repair needs, give us call today. When it comes to problems with your household appliances, Eleet Appliance Repair is ready to assist you in any way we can!
Estimates and Pricing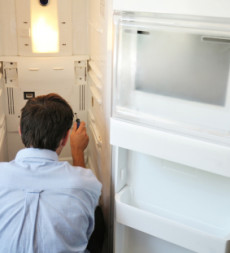 Unlike appliance repair services that keep you in the dark about what your service call will cost, our professionals are pleased to offer a comprehensive estimate on every job. Your Eleet Appliance Repair technician will thoroughly evaluate the source of your dryer, fridge, or washing machine repair problems, identify the appropriate solutions, and present you with a recommended plan of action.
We offer a free estimate when the repair is approved by you, if you do not wish to do the repair a $60.00 service fee will apply only then! We have flat-rate pricing for labor at $99.00 (plus parts) no matter what issue and time duration. This way you know what you are paying before we even step foot in your door! 
Note: Due to the flat-rate pricing we no longer offer sealed system (i.e. compressor) work on refrigerators due to the cost and time to the customer.
Quality Appliance Repairs
When you call Eleet Appliance Repair, you can count on us to get the job done right the first time. Our team of professionals is factory trained, and we have almost 10 years of hands-on experience in diagnostics and appliance repairs. We take the time to locate the cause of your broken appliance's problem and repair both the source and the symptoms at once. Using only quality appliance repair parts, we make certain you get the top-notch appliance service you can rely on.
And remember, at Eleet Appliance Repair, we strive to take great care of you as well as your appliance repair needs. Customer service is our number-one priority, and it shows! For a hassle-free experience the next time you need a fridge or stove repair, we're here to serve you.
60-Day Warranty
At Eleet Appliance Repair, we stand behind the quality of our workmanship. We offer a complete 60-day warranty with all of our appliance repairs, which includes both parts and labor. Unlike appliance repairmen who only guarantee their labor, we back both our craftsmanship and our replacement parts with our 60-day guarantee. Providing you with superior peace of mind for your dishwasher repair, washer repair, or other appliance service is just what we do!
Fast Appliance Service
When it comes to your home or business, we understand you can't wait around for weeks to get your appliances back in working order. That's why Eleet Appliance Repair offers fast service on everything from refrigeration repair to washing machine repair. We'll make certain we promptly send an appliance repair technician to your location, and once on site, we work to provide efficient and effective troubleshooting and repairs.
Don't deal with your malfunctioning and broken appliances a moment longer than you have to! Call Eleet Appliance Repair ASAP for top-quality repair service, fast turnaround, and the end to your appliance woes.