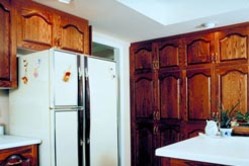 Getting your fridge working again is what we do at Eleet Appliance Repair. Providing affordable, effective refrigerator repair, we work to make certain your fridge keeps running and your food stays safely cooled. You don't have to put up with that malfunctioning refrigerator any longer—give us a call and we'll take care of all of your refrigeration repair needs!
Whether you're dealing with a fridge not cooling or a refrigerator leaking, when you're experiencing problems with your fridge, time is of the essence. At Eleet Appliance Repair, we understand that! We'll send one of our skilled professionals to your home to provide you with efficient, effective refrigerator repairs that will help you minimize food loss and maximize performance. And unlike some appliance repair companies, our team works on all parts of your refrigerator, including the icemaker and water dispenser. Our refrigeration repair experts are the pros to call when you want to get the whole job done right the first time.
Qualified Fridge Repair Service
Specializing in appliance repair for almost a decade, Eleet Appliance Repair has the in-depth knowledge and expertise to handle even the most challenging refrigerator repair services. We work on just about all fridge makes and models, so whether you need GE refrigerator repair or Maytag refrigerator repair, we're here to help. If your fridge isn't cooling enough, is cooling too much, or displaying any other symptom of a malfunction, contact us ASAP. We'll provide you with troubleshooting and diagnostics in addition to refrigerator repair service, and our professionals will ensure we completely resolve the entire problem. Combining fantastic customer service with our precision fridge repairs, Eleet Appliance Repair is the name to trust for superior service in Baltimore!
Purchasing a new fridge can be super expensive, so remember there's another solution when your refrigerator starts acting up. Eleet Appliance Repair can help you save big over refrigerator replacement, so don't jump the gun by buying a new appliance. Let our qualified refrigeration repair team bring you cost-effective, quality refrigerator repairs today!
Don't forget: While Eleet Appliance Repair does not offer commercial refrigeration repair, we do service residential fridges located in businesses. If you need refrigerator repair for your office fridge, just give us a call. We'll get it back in working order in no time at all!