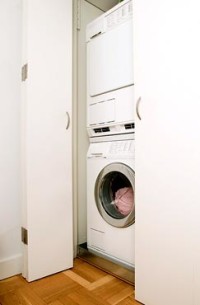 Your washing machine is one of the little luxuries of modern life that's so easy to take for granted… That is until it stops working! Don't resort to hauling all your clothes down to the laundromat or suffer through hand-washing your garments: Call Eleet Appliance Repair for expert washer/dryer repair in Baltimore. Our team provides precision washing machine repair services, and we can help get your washer back up to speed. Don't let a malfunctioning washer inconvenience you any longer. Call today!
Washer/dryer repair from Eleet Appliance Repair is a great way to save money without sacrificing quality. That's because our washing machine repair services are far more affordable than just going to the store and purchasing a new appliance. And with nearly a decade of experience as appliance repairmen, we have the hands-on expertise to ensure your unit is repaired correctly. At Eleet Appliance Repair, we use only the highest quality replacement parts to ensure that our repairs last! We take the time to perform complete washer repair diagnostics and then work diligently resolve any problems we do find. When you call in our professionals for your washing machine repairs, you can rely on us for cost-effective service and quality that will stand the test of time.
Comprehensive Washing Machine Service
We're pleased to provide washer and dryer repairs for a full contingent of washing machine problems, including:
Leaking
Not draining
Not spinning
Not filling
Not starting
Whether you need a new lid switch or a replacement water inlet valve, the Eleet Appliance Repair pros will identify the problem and perform complete repairs. You don't have to let a malfunctioning washing machine trap you in the Dark Ages—we're ready to help you enjoy the convenience and hassle-free performance of your washer again ASAP. For washer and dryer repairs done right, Eleet Appliance Repair is here to serve you.
At Eleet Appliance Repair, we do not provide commercial or coin-operated washing machine repairs. However, we are available to service residential washers installed in local businesses. If your salon's washing machine is leaking or your day care's washer is making frightening noises, we can help. Offering light commercial washing machine repair, Eleet Appliance Repair is available to limit the inconvenience and disruption caused by an inoperative washer.
For additional information about our washing machine service options in Baltimore, contact us via phone or e-mail now.